Dr. Lutz Heinemann on Diabetes Tech in 2025: Lower Cost CGM (<$2-$3/day), More CGM in Type 2, Telemedicine, Decision Support; ~3,000 Patients on DIY AID Systems Globally
Science Consulting Neuss CEO Dr. Lutz Heinemann kicked off ATTD 2019 in fantastic fashion, headlined by his predictions for diabetes tech in 2025:
For type 1, he anticipates: (i) the availability of cheap and reliable CGM with an <8% MARD and ~<$3/day; (ii) "affordable" AID systems at ~$11/day; (iii) "doc on demand" providers via telemedicine as part of patients' standard care; and (iv) most therapeutic aspects of care facilitated by data download to the cloud and clinical decision support systems (CDSS). No surprises there, though we'd be interested to know the assumptions behind AID at $11 per day (~$330 per month, ~$4,000 per year) – if that estimate includes CGM and insulin, it's a massive step down in costs relative to current systems.
For type 2, Dr. Heinemann expects: (i) SMBG to be widely replaced by CGM with <10% MARD and ~<$2/day (implying a different lower-cost, slightly less accurate product than for type 1); (ii) increasing uptake of once- weekly basal insulins; and (iii) wide use of CDSS (clinical decision support systems – we're trying to help everyone get used to this new-ish abbreviation).
Supporting these claims, Dr. Heinemann gave several take-home trends:

Declining numbers of endocrinologists and diabetologists are at odds with the rising diabetes epidemic, necessitating the transfer of responsibility to machines and algorithms. 80% of diabetes-related procedures are routine tasks, which clinical decision support systems could primarily undertake, allowing physicians to add their own recommendations informed by their relationships with patients and patient circumstances. Notably, algorithms could also be used to detect the ~one-fifth of patients that require direct and fuller attention of a physician. As Dr. Heinemann pointed out, these algorithms aren't necessarily intended to enable the treatment of more patients within the same period of time, but rather to empower providers with more time to talk to each patient. Given the trends in numbers of providers, this is still a concern – who is going to take care of everyone with diabetes?
While better devices have pushed major success in the ~$2.9 billion CGM market , Dr. Heinemann characterizes current CGM systems as still "miles off from ideal." To this end, he labelled cost, sensor wear time, pain, and skin reactions as major areas of improvement, as well as the establishment of an accuracy standard such as that seen already with SMBG systems. (iCGM is sort of the de facto accuracy standard now, as we assume all companies will move to that over time given the regulatory and speed advantages. We also think that due to arrows, accuracy overall is less important to some patients.) Looking to the future, Dr. Heinemann was particularly excited about the Dexcom and Verily "G7," slated to launch in late 2020, followed by a full rollout in 2021 (per JPM). However, he was skeptical that the project will stick to this timeline to launch it next year (he did not mention the broader rollout in 2021). At JPM, CEO Mr. Kevin Sayer shared that Dexcom expects to "finalize" G7 this year and provide "very clear timing" on the plan. With the amended Verily collaboration agreement and consistency between 3Q18 and the Investor Day, we think things are feeling clearer on this next major pipeline launch. Dexcom often gets products approved faster than expected, though given the massive organizational disruption for G6, there is a lot to get ready for G7.

Dr. Heinemann asserted that ~3,000 people globally are currently using DIY insulin systems (Loop, OpenAPS, or Android APS). We've previously heard an estimate of ~2,000 Loop users, and this sounds in the ballpark taking into account all three systems. It also shows the great desire for more advanced and personalized AID; as Dr. Heinemann put it, "people with diabetes won't wait for innovation." That said, the DIY movement has also started to make regulatory waves, with Tidepool and Jaeb beginning an observational, virtual study of Loop last month to support FDA submission. (Adam is in this study and just mailed back the A1c kit – very cool!)
Dr. Heinemann also pointed to the environmental waste associated with diabetes products , showing a full trash bag from diabetes product waste accumulated in just two weeks. To this end, he highlighted that each Dexcom G6 inserter creates 80 g of plastic waste and each Abbott FreeStyle Libre sensor 71 g. For the latter, this equates to over 1 billion pounds of plastic created each year (!) – assuming 1.3 million users inserting two sensors per month. Further data from Dr. Heinemann on this topic are currently under review for the Journal of Diabetes Science and Technology .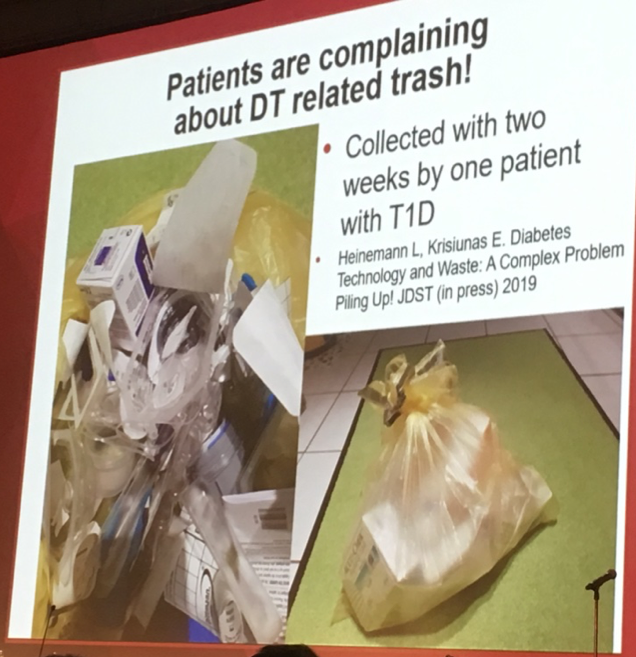 What about exciting therapy innovation? Dr. Heinemann specifically pointed to glucose-responsive, or smart, insulin (GRI) – while he doesn't believe a product will reach the market soon, he does anticipate that GRI may pose a threat to diabetes technologies such as a fully closed-loop. We think the prospects of GRI are a bit long-term (10+ years out) to make a judgment call at this point. After the first-ever clinical candidate was discontinued by Merck due to inadequate phase 1 results, GRI has experienced somewhat of a renaissance with investment from JDRF and Novo Nordisk – Sanofi has also made some major investments. Still, development of an effective GRI does comes with wide-ranging technical challenges that are currently unsolved, as was highlighted in a 2016 JDRF/Helmsley Charitable Trust gathering on smart insulin. Perhaps most importantly, a molecule must be programmed sensitively toward a narrow and physiologically appropriate glucose range, which is no small feat; cost and insulin receptor kinetics are also key. We'd bet on no technology emerging for at least the next decade.
Digitalization will continue to change our world dramatically. According to Rock Health, investment in digital health surpassed $8 billion in 2018, and with major companies such as Google and Apple beginning to venture even further, diabetes technology is ripe for disruption (as it has been for many years). For these companies, according to Dr. Heinemann, digital health is a market of the future.
– by Adam Brown, Ann Carracher, Brian Levine, Payal Marathe, Peter Rentzepis, Maeve Serino, and Kelly Close