That's right. It's that time of the year again. You can go to any store and see all the wonderful pink and red hearts on display everywhere you look. There are cupids shooting bows, and people kissing everywhere. Its a wonderful time of the year. Unless of course, you are single.
You look at all the displays in disgust. It's almost as if they are mocking you. Its not MY fault the 2 times I almost had a girlfriend, they moved over 300 miles away. Long distance relationships are nigh impossible when you don't have a driver's license or a decent cellphone plan. And so here a am, alone in a world of luvvy duvvyness. As I walk down the halls of my school, people are making out on the lockers, even though its a direct violation of the school's policy. However, it seems like no one seems to care. It's sickening.
If it isn't bad enough, lets add diabetes on top of it. People with extra candy give it out to their friends. By the end of the day, I have a small bag filled with sweethearts and dove chocolates. And due to my depressed state, I can't stop myself. I'll eat a few pieces here and there. Unfortunately, all this adds up and eventually this happens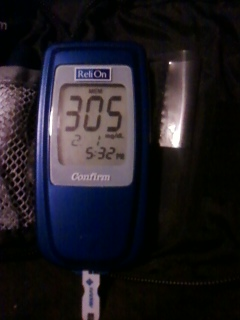 So now I'm depressed with a rocketing bloodsugar on top of it. What a wonderful holiday!
Happy Single Depreciation Day everyone!